Thursday, March 29, 2012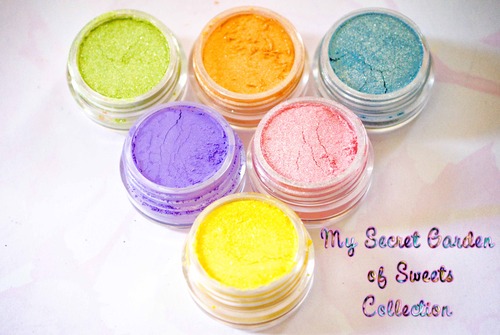 I'm so happy to share with you all the new collection of pigments at I-Candy Couture! These pigments are super sweet and totally Spring inspired! This collection is called the "My Secret Garden of Sweets" collection... totally pastel, and definitely makes me think of Spring. This collection consists of six new exclusive I-Candy Couture shades.
Starting at the top left of the upside down triangle of pigments, you have Sour Apple Charm. A great pastel green color. The next color is Orange Dream, appearing to be a nice mid-toned orange pastel shade. The next is Cotton Candy Cutie which is a nice baby blue pastel pigment. Followed by Lollipop Lovin', a great mid-toned purple. Strawberry Shawtie is a beautiful pink pigment and finally, Lemon Drop Baby is a great vibrant yellow color!
The pigments are $5.00 for a full sized 5 gram jar, and available only at http://i-candycouture.com.
You can also opt to buy a sample clam jar of product for $1.00 which is 1 gram of product.
Or, if you want the whole collection, it will be $28.00 for all six full size jars of pigments! =)
Hey girlies! This look is inspired by the new trending spring colors, which are oranges and pinks... This is a totally wearable look using little pops of color. I used mostly I-Candy Couture products and you can purchase these (and my Barbie necklace) from http://i-candycouture.com. Don't forget to let Honey know that Dawn sent you! =)
<center><iframe width="420" height="315" src="http://www.youtube.com/embed/KcgqcQfjOiA" frameborder="0" allowfullscreen></iframe></center>
Thursday, March 22, 2012
Tired of your lip stick and/or gloss wearing off after a couple of hours? Would you like something that can last through talking and eating? Sometimes it's frustrating having to touch up your lip product(s) throughout the day. This can especially be true if you are going on a date and you don't want to apply a lip product continuously, or maybe you're just going out with some friends. I think a big reason why most women don't wear many lip products, especially in bolder colors, is because they dislike having to touch up so often to keep these colors looking perfect on the lips.
Today, I will be reviewing some lip stains/lip glosses for you. These products are from Skinn Cosmetics and they are dual lip stain and lip gloss, called "Tint & Shine, Luscious Lip Stain & Gloss Set." Now, I know what you're thinking…. another lip stain marker, they dry out so quickly, you can never see how much product is exactly inside, what a waste of money… but I am telling you, you are really going to love these products!
According to Dimitri James, Skinn Celebrity Makeup Artist, these lip stains are especially wonderful because you can play with the intensity of the lip stain. You can apply one layer for a lighter stain, or build it up for a deeper and more vibrant look.
The two colors that you see pictured are the only shades available in the Tint & Shine's right now. Villa Rosa is a nice, deep burgundy red. It is more blue-based. In the tube, it appears to have a Merlot red wine kind of a look to it, but do not be scared by the darkness in the packaging! The other shade is Ciao Bella and looks like a bright strawberry or watermelon colored lip stain. It actually is a nice dark pink on the lips, and is very wearable! Both of these lip stains give such a classy effect when worn.
The glosses on the other end of the wand are very neutral. They are pretty sheer, but once applied over the lip stain give a really nice finishing touch to the overall look of the lips. They are similar in color, however the one on Ciao Bella appears to have a bit more shimmer and is slightly lighter in shade. These products retail for $18.00. In each tube you get 5 ml of stain and 4.5 ml of lip gloss.
What I honestly love about these lip stains is the fact that the product is in a wand as opposed to the typical lip stain marker type packaging. You can actually see how much product is in the tube and know how much you have left. I think this is an absolute genius idea. This will also eliminate the issue of the lip stain marker drying out because you can see the liquid stain. Once capped, it's not exposed to any residual air on the packaging. Brilliant!
The "Tint & Shine" lip gloss & stain duo has a thin brush applicator which allows for extremely precise application. You can simply use the brush applicator as a lip liner, so to speak, and then dip back into the product to fill in the rest of your lips. They are super buildable and give such a natural touch to the lips. What I mean by natural is that while your lips are of course tinted, they do not appear to have that look that you're actually wearing lipstick.
These are not drying on the lips at all. In fact, it doesn't have that typical "lip cracking" feeling after it dries. You don't even need to put the gloss on top if you don't want to. However, I will say that the gloss is actually quite smooth and the texture is amazing. It is not in the least bit sticky and stays comfortable throughout hours of wear.
As far as length of wear, the gloss is of course going to wear off a lot faster than the actual lip stain. I have found that the gloss usually lasts for about three to four hours. I do work in a law firm so I am on the phone and talking quite a bit. I noticed that the lip gloss would start to wear off after about 3-4 hours. Interestingly enough, I find that Ciao Bella (the pink lip stain) lasts about 5 hours or so, through eating, drinking, talking, etc. I did find that Villa Bella (the red lip stain) lasted for at least 7 hours, although it did start to fade towards the center of the lips. So, you would obviously need to reapply after a while, but these are by far some of the best lip stains I have tried.
The scent of the lip stains are a little odd, it's a smell that I really can't put my finger on. It's not strong at all though so this won't be an issue for you unless you have an extremely sensitive nose. One thing to note is that these lip stains are water-based and have alcohol-free dye (so they won't dry out your pucker!) The lip gloss on the other hand has a somewhat light fruity scent to it, which is rather pleasant.
I would definitely recommend these to someone who does not like or have time to constantly touch up their lip products throughout the day! I give these 5 out of 5 stars. I would definitely purchase this myself. I do wish there was a larger color selection. Skinn Cosmetics, if you're listening, please create a nude colored "Tint & Shine!"
"Tint & Shine" luscious lip stains and glosses can be purchased at http://skinn.com or wherever Skinn products are sold.
Skinnygirl
by
Bethenny Frankel
— a solution to all of these problems.
The line offers a lot more than just skin care products! The first product I am going to start with is the
Skinny Girl Body Solutions Smoothing & Firming Body Was
h ($9.97). This body wash is infused with cranberry extract and witch hazel. Since it does have witch hazel in it, in my personal opinion, I feel that if you are someone who may struggle with acne on your body (i.e.: on your shoulders, chest area, etc.) this may be a good product to help heal some of that unsightly acne.
Skinnygirl Body Solutions Smoothing & Firming Body Was
h has a light, pleasant scent. I can pick up on the cranberries in this body wash, most definitely. This body wash claims to be firming, which I find it did not, having been using this for around 2-3 weeks. As always, I would never rely on a body wash to tone up your skin — that's something you should hit the gym for. However, for a body wash to make that sort of a statement is rather bold. Maybe after extended and prolonged use of the product, you might see some firming results. There is also a corresponding lotion to the body wash (which I did not test out).
The formula for the body wash has caffeine and cranberry extract in it, which are supposed to improve circulation and stimulate the skin. There is also cucumber extract, to help smooth out your skin as well as soften. Finally, the witch hazel is a natural and effective cleanser. When it comes to lather, I find that I have to use a significantly larger amount of this body wash than other body washes I have tried to get just a normal, typical lather for me. I do use a loofa with this product, so if you are just using a wash cloth then you may have more issues than I did.
It is almost gone and it's only been around 2-3 weeks of use, so that may be something to note if you like a rich-lathering body wash like I do. The spout on the cap also dispenses a smaller amount of product than normal, so that may be something to note. The scent does not linger on your skin after you shower, like most body washes. I can't say that I noticed this body wash doing particularly awesome things for my skin; I would not say that I hate it, but I definitely don't love this product.
Skinnygirl Mommy
line. I tested out the
Conditioning Belly Butter
($9.97) and the
Soothing Body Oil
. For the record, I am not currently pregnant, so I do not suffer from dry, itchy skin on my stomach due to pregnancy, but I did use these products as an all-over moisturizer.
The
Conditioning Belly Butter
has such an interesting texture to it. It also has an amazing scent! The product has cocoa butter and vitamin E in it, but, to me, the smell leans more towards vanilla icing than cocoa butter… and the texture is rather similar as well! I am in love with this product. This product is super thick, just like any other body butter I have tried. It leaves your skin feeling soft, supple and smooth — and I could definitely see how this would relieve dry and itchy skin for a pregnant woman. There is nothing that would stop you from using this as an all-over moisturizer! It's fantastic!
One thing to note is that the formula feels a little heavy on the skin, so I think in the hotter summer months it may be a little heavy for everyday use. It doesn't require too much effort to rub it in. However, there are some little annoying clumps of product within the tub. I found that while using this product they do not rub out, so it makes it annoying to use. But overall, the product does what it claims, and is awesome in my opinion.
Besides shea butter, some of the key ingredients are sunflower seed oil, beeswax, sesame seed oil, cocoa seed butter and vitamin E. I will note that on the website for
Skinnygirl
it claims that vitamin E helps even out skin tone and diminish the appearance of scars. I do have a scar on my lower abdomen from having three c-sections and I did not notice that this helped it fade at all. Again, I have only been using these products for about 2-3 weeks, so maybe with prolonged usage I could comment more on scar-fading results.
Soothing Body Oil
($8.88), also part of the
Skinnygirl Mommy
line. I absolutely love this product as well! Since it is oil, it does require a little bit more effort to rub into your skin to avoid being a slick and shiny mess. However, I do love the soft sheen that this product gives my skin! The only way I can describe this scent is very clean and almost smells floral to me.
According to the website, this product has sweet almond oil, safflower seed oil, coconut oil and olive oil. This product is great to use after shaving your legs, or after the shower. I find that it really locks the moisture into your skin. However, I will add that this is a great product to moisturize your feet with! But, just be careful because it will make the bottom of your feet
slippery, especially if you're walking on hard wood floors! (Don't worry, I didn't fall… hehe)
One more thing I would like to say about the
Soothing Body Oil
is that I also think this may be a little heavy to wear in the hotter summer months. I can't say that I have tested this theory of mine out yet, because it's not that hot here in Michigan, but I'm just assuming by how it feels on your skin. This may or may not be an issue for you if you decide to purchase this product.
Overall, I would recommend the body butter or the body oil. I would purchase these products for myself, regardless of the fact that they are intended for expecting mothers to use. I did not care for the body wash so much and I would not purchase it again.
You can check out their products at
www.bethenny.com
or
www.skinnygirlfaceandbody.com
Clarisonic Mia2
? If you are already a fan of the
Clarisonic
, then you may be excited to know that they have a new product hitting the market soon: The
Clarisonic Mia2 Sonic Skin Cleansing Acne Clarifying Collection
.
To familiarize yourself with what the
Clarisonic
is, for those who may not know, it is a dermatologist recommended skin cleansing system, which uses patented sonic cleansing technology. It's an awesome product which deep cleans the skin, deep down into the pores getting rid of any leftover makeup and dirt. You can not only see a difference, but you can feel a difference, too!
Clarisonic Mia2
. I found it to be super user friendly. It comes with a charger, and you must charge it for 24 hours before using it for the first time. However, the charge will last you for approximately 25 uses (each use is 1 minute). The brush is soft on your skin, yet firm enough to really pull dirt and makeup out from your
pores
.
There are two speed settings for the
Clarisonic Mia2
. You may use whichever one you like — it's basically based off of your own personal preference; I prefer to use the faster speed. The
Clarisonic Mia2
uses a pulsing T-Timer, which will assist in providing even cleansing throughout the face. This T-Time allots 20 seconds for the forehead, 20 seconds for the nose and chin area, and 10 seconds for each cheek.
I have been using this particular product for around a month or so now, and I am amazed with using the Mia2 every time! It is the best way to cleanse your skin. I've even tried using just normal face cleansing routine with a washcloth, and then used the Mia2 afterwards; you can SEE the remnants of foundation coming off of your skin and onto the
Clarisonic Acne Cleansing Brush Head
! It's actually amazing. I never realized how ineffective using a washcloth alone was on your face.
On to the special
Clarisonic Acne Daily Clarifying Cleanser
that comes with the Mia2 as part of the collection. It claims to gently dry and clean acne blemishes while allowing your skin to heal. It has enriching vitamins and botanicals to reduce redness and leave your skin soft and smooth.
I'm on the fence with this product. It has a pleasant, clean and fresh scent. The texture is smooth and it appears to be an effective general facial cleanser, in my opinion. However, I wish that there was a higher percentage of salicylic acid in this product. The cleanser did not cause me to breakout (such as other cleansers that may have mineral oil and what not), however, it wasn't strong enough to really be effective at clearing acne and preventing acne. It seemed that I went without a new breakout for about a week or so, but then I ended up getting a couple of your run of the mill blemishes here and there. It also did not heal acne as well as I had hoped it would.
My skin is particularly red when I break out, with the exception of the actual pimple, so I can't comment too much on this cleanser reducing redness, but I did notice that my skin felt more smooth than normal after using.
I would recommend the acne cleanser for anyone who doesn't have
super acne-prone skin
. If you have sensitive skin and are just looking for a great facial cleanser, this would be perfect. However, if you have mild to serious acne, this would definitely be ineffective for you. I would say at any given time I usually have 2-3 pimples on my face during a bad week. I do not have the worst acne in the world, please don't misunderstand what I'm saying, but if this product could not clear up my mild acne, then how could it clear up someone who is suffering from constant and continuous breakouts all over their face?
So, over all, I would definitely recommend the
Clarisonic Mia2
to anyone! Men, women, teens, etc. I would give this product
5 out of 5 stars
! It's truly a new staple product to my skincare routine. I can't imagine not having one after having been so fortunate enough to try it out!
As far as the cleanser, I would probably give this a
3 out of 5 stars
, simply because most cleansers geared towards acne tend to actually break you out rather than help your blemishes, and I find that this didn't break me out at all. It just wasn't strong enough to clear up what acne I already had.
If you're looking to purchase the
Clarisonic Mia2
system as a whole, I would give it
4 out of 5 stars
. This product will be available at
www.clarisonic.com
as well as your local
Sephora
and
www.sephora.com
and will be retaining for $169.00 for the whole collection.