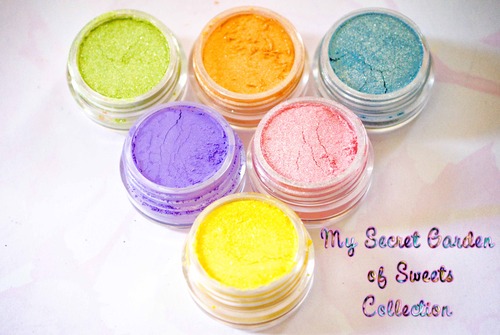 I'm so happy to share with you all the new collection of pigments at I-Candy Couture! These pigments are super sweet and totally Spring inspired! This collection is called the "My Secret Garden of Sweets" collection... totally pastel, and definitely makes me think of Spring. This collection consists of six new exclusive I-Candy Couture shades.
Starting at the top left of the upside down triangle of pigments, you have Sour Apple Charm. A great pastel green color. The next color is Orange Dream, appearing to be a nice mid-toned orange pastel shade. The next is Cotton Candy Cutie which is a nice baby blue pastel pigment. Followed by Lollipop Lovin', a great mid-toned purple. Strawberry Shawtie is a beautiful pink pigment and finally, Lemon Drop Baby is a great vibrant yellow color!
The pigments are $5.00 for a full sized 5 gram jar, and available only at http://i-candycouture.com.
You can also opt to buy a sample clam jar of product for $1.00 which is 1 gram of product.
Or, if you want the whole collection, it will be $28.00 for all six full size jars of pigments! =)